Save

$0.00

Save

$0.00

Original price

$199.99

-

Original price

$199.99

Your child cadet will love taking off for future car rides knowing they are in a one of a kind, out of this world car seat! The KidsEmbrace Astrona...

View full details

Original price

$199.99

-

Original price

$199.99

Save

$0.00

Save

$0.00

Original price

$199.99

-

Original price

$199.99

Excuse me, I think the word you're searching for is "Space Ranger". That's right the galaxies most famous action figure has arrived and is ready t...

View full details

Original price

$199.99

-

Original price

$199.99

Save

$0.00

Save

$0.00

Original price

$199.99

-

Original price

$199.99

Product Features: Approved for forward-facing use with 5-point harness for children between 22-65 lbs & 29"-49" in height. Can be converte...

View full details

Original price

$199.99

-

Original price

$199.99

Sold out

Original price

$199.99

-

Original price

$199.99

Your little superhero will feel like King T'Challa trekking through Wakanda in the KidsEmbrace Marvel Avengers Black Panther Combination Booster C...

View full details

Original price

$199.99

-

Original price

$199.99

Save

$0.00

Save

$0.00

Original price

$199.99

-

Original price

$199.99

Your child will feel like a princess in our Cinderella Car Seat! Product Features: Approved for forward-facing use with 5-point harness for child...

View full details

Original price

$199.99

-

Original price

$199.99

Save

$0.00

Save

$0.00

Original price

$199.99

-

Original price

$199.99

Product Features: Approved for forward-facing use with 5-point harness for children between 22-65 lbs & 29"-49" in height. Can be converte...

View full details

Original price

$199.99

-

Original price

$199.99

Sold out

Original price

$199.99

-

Original price

$199.99

Our Minnie Mouse Car Seat is a great pair with our Mickey Mouse Car Seat! Product Features: Approved for forward-facing use with 5-point harness...

View full details

Original price

$199.99

-

Original price

$199.99

Save

$0.00

Save

$0.00

Original price

$199.99

-

Original price

$199.99

Our Mickey Mouse Car Seat is a great pair with our Minnie Mouse Car Seat! Product Features: Approved for forward-facing use with 5-point harness ...

View full details

Original price

$199.99

-

Original price

$199.99

Sold out

Original price

$199.99

-

Original price

$199.99

Your little one will feel like a real princess in our Princess Tiana Car Seat! Product Features: Approved for forward-facing use with 5-point har...

View full details

Original price

$199.99

-

Original price

$199.99

Sold out

Original price

$199.99

-

Original price

$199.99

Ryder needs us! Stay safe for all your ruff ruff rescues in our Paw Patrol Chase Car Seat! Product Features: Approved for forward-facing use wit...

View full details

Original price

$199.99

-

Original price

$199.99

Save

$0.00

Save

$0.00

Original price

$199.99

-

Original price

$199.99

Product Features: Approved for forward-facing use with 5-point harness for children between 22-65 lbs & 29"-49" in height. Can be converted...

View full details

Original price

$199.99

-

Original price

$199.99

Save

$0.00

Save

$0.00

Original price

$199.99

-

Original price

$199.99

Have you seen the latest creation from Stark Industries? This officially licensed IRON MAN combination booster will protect your child through its ...

View full details

Original price

$199.99

-

Original price

$199.99

Sold out

Original price

$199.99

-

Original price

$199.99

Your child will feel like a princess in our Cinderella Car Seat! Product Features: Approved for forward-facing use with 5-point harness for child...

View full details

Original price

$199.99

-

Original price

$199.99

Save

$0.00

Save

$0.00

Original price

$199.99

-

Original price

$199.99

Bring Batman into your home with this fantastic car seat by KidsEmbrace! Product Features: Approved for forward-facing use with 5-point harness ...

View full details

Original price

$199.99

-

Original price

$199.99

Sold out

Original price

$199.99

-

Original price

$199.99

Your child will love hopping into the car knowing Batman, the Caped Crusader, is along for the ride! The KidsEmbrace DC Comics Batman Caped Crusade...

View full details

Original price

$199.99

-

Original price

$199.99

Save

$0.00

Save

$0.00

Original price

$199.99

-

Original price

$199.99

Ryder needs us! Stay safe for all your ruff ruff rescues in our Paw Patrol Skye Car Seat! Product Features: Approved for forward-facing use with...

View full details

Original price

$199.99

-

Original price

$199.99

Save

$0.00

Save

$0.00

Original price

$199.99

-

Original price

$199.99

Ryder needs us! Stay safe for all your ruff ruff rescues in our Paw Patrol Marshall Car Seat! Product Features: Approved for forward-facing use ...

View full details

Original price

$199.99

-

Original price

$199.99

Save

$0.00

Save

$0.00

Original price

$199.99

-

Original price

$199.99

Product Features: Approved for forward-facing use with 5-point harness for children between 22-65 lbs & 29"-49" in height. Can be converted...

View full details

Original price

$199.99

-

Original price

$199.99
Save

$0.00

Save

$0.00

Original price

$99.99

-

Original price

$99.99

This high back booster can be used for children over 4 years old, weighing 40 to 100 pounds and 38 to 57 inches in height. This high back booster ...

View full details

Original price

$99.99

-

Original price

$99.99

Sold out

Original price

$99.99

-

Original price

$99.99

This high back booster can be used for children over 4 years old, weighing 40 to 100 pounds and 38 to 57 inches in height. This high back booster ...

View full details

Original price

$99.99

-

Original price

$99.99

Sold out

Original price

$99.99

-

Original price

$99.99

This high back booster can be used for children over 3 years old, weighing 40 to 100 pounds and 38 to 57 inches in height. This high back booster ...

View full details

Original price

$99.99

-

Original price

$99.99

Save

$0.00

Save

$0.00

Original price

$99.99

-

Original price

$99.99

This high back booster can be used for children over 4 years old, weighing 40 to 100 pounds and 38 to 57 inches in height. This high back booster s...

View full details

Original price

$99.99

-

Original price

$99.99

Sold out

Original price

$99.99

-

Original price

$99.99

This high back booster can be used for children over 3 years old, weighing 40 to 100 pounds and 38 to 57 inches in height. This high back booster ...

View full details

Original price

$99.99

-

Original price

$99.99

Sold out

Original price

$99.99

-

Original price

$99.99

This high back booster can be used for children over 3 years old, weighing 40 to 100 pounds and 38 to 57 inches in height. This high back booster ...

View full details

Original price

$99.99

-

Original price

$99.99

Save

$0.00

Save

$0.00

Original price

$139.99

-

Original price

$139.99

Your child will love hopping into the car knowing Batman, the Caped Crusader, is along for the ride! The KidsEmbrace High Back Belt Positioning Boo...

View full details

Original price

$139.99

-

Original price

$139.99

Save

$0.00

Save

$0.00

Original price

$139.99

-

Original price

$139.99

Your child will love hopping into the car knowing The KidsEmbrace NASA Astronaut is along for the ride! The KidsEmbrace High Back Belt Positioning ...

View full details

Original price

$139.99

-

Original price

$139.99
Save

$0.00

Save

$0.00

Original price

$139.99

-

Original price

$139.99

Your child will love hopping into the car knowing The KidsEmbrace NASA Astronaut is along for the ride! The KidsEmbrace High Back Belt Positioning ...

View full details

Original price

$139.99

-

Original price

$139.99

Save

$0.00

Save

$0.00

Original price

$139.99

-

Original price

$139.99

Your child will love hopping into the car knowing Batman, the Caped Crusader, is along for the ride! The KidsEmbrace High Back Belt Positioning Boo...

View full details

Original price

$139.99

-

Original price

$139.99
Save

$0.00

Save

$0.00

Original price

$49.99

-

Original price

$49.99

Your child will love hopping into the car knowing that that robots of Star Wars are along for the ride! The KidsEmbrace Star Wars Robots Backless B...

View full details

Original price

$49.99

-

Original price

$49.99

Sold out

Original price

$49.99

-

Original price

$49.99

This booster can be used for children weighing 40 to 100 pounds and 40 to 57 inches in height. Product Features: Insurance Institute for Highway ...

View full details

Original price

$49.99

-

Original price

$49.99

Save

$0.00

Save

$0.00

Original price

$49.99

-

Original price

$49.99

This booster can be used for children weighing 40 to 100 pounds and 40 to 57 inches in height. Product Features: Insurance Institute for Highway ...

View full details

Original price

$49.99

-

Original price

$49.99

Save

$0.00

Save

$0.00

Original price

$49.99

-

Original price

$49.99

Your child will love hopping into the car knowing that Darth Vader is along for the ride! The KidsEmbrace Darth Vader Backless Booster Car Seat has...

View full details

Original price

$49.99

-

Original price

$49.99

Save

$0.00

Save

$0.00

Original price

$49.99

-

Original price

$49.99

Your child will love hopping into the car knowing that that Grogu, The Child from Star Wars are along for the ride! The KidsEmbrace Star Wars Grogu...

View full details

Original price

$49.99

-

Original price

$49.99

Save

$0.00

Save

$0.00

Original price

$49.99

-

Original price

$49.99

Your child will love hopping into the car knowing that Spider-Man is along for the ride! The KidsEmbrace Marvel Spider-Man Backless Booster Car Sea...

View full details

Original price

$49.99

-

Original price

$49.99

Sold out

Original price

$49.99

-

Original price

$49.99

Your child will love hopping into the car knowing that Spider-Man is along for the ride! The KidsEmbrace Marvel Spider-Man Backless Booster Car Sea...

View full details

Original price

$49.99

-

Original price

$49.99

Sold out

Original price

$49.99

-

Original price

$49.99

Your child will love hopping into the car knowing that Spider-Man is along for the ride! The KidsEmbrace Marvel Spider-Man Backless Booster Car Sea...

View full details

Original price

$49.99

-

Original price

$49.99

Save

$0.00

Save

$0.00

Original price

$49.99

-

Original price

$49.99

Your child will love hopping into the car knowing that Spider-Man is along for the ride! The KidsEmbrace Marvel Spider-Man Backless Booster Car Sea...

View full details

Original price

$49.99

-

Original price

$49.99

Save

$0.00

Save

$0.00

Original price

$49.99

-

Original price

$49.99

This booster can be used for children weighing 40 to 100 pounds and 40 to 57 inches in height. Product Features: Insurance Institute for Highway ...

View full details

Original price

$49.99

-

Original price

$49.99

Save

$0.00

Save

$0.00

Original price

$49.99

-

Original price

$49.99

This booster can be used for children weighing 40 to 100 pounds and 40 to 57 inches in height. Product Features: Insurance Institute for Highway ...

View full details

Original price

$49.99

-

Original price

$49.99

Save

$0.00

Save

$0.00

Original price

$49.99

-

Original price

$49.99

This booster can be used for children weighing 40 to 100 pounds and 40 to 57 inches in height. Product Features: Insurance Institute for Highway ...

View full details

Original price

$49.99

-

Original price

$49.99

Save

$0.00

Save

$0.00

Original price

$49.99

-

Original price

$49.99

This booster can be used for children weighing 40 to 100 pounds and 40 to 57 inches in height. Product Features: Insurance Institute for Highway ...

View full details

Original price

$49.99

-

Original price

$49.99

Sold out

Original price

$49.99

-

Original price

$49.99

This booster can be used for children weighing 40 to 100 pounds and 40 to 57 inches in height. Product Features: Insurance Institute for Highway ...

View full details

Original price

$49.99

-

Original price

$49.99

Save

$0.00

Save

$0.00

Original price

$49.99

-

Original price

$49.99

This booster can be used for children weighing 40 to 100 pounds and 40 to 57 inches in height. Product Features: Insurance Institute for Highway ...

View full details

Original price

$49.99

-

Original price

$49.99
Save

$0.00

Save

$0.00

Original price

$99.99

-

Original price

$99.99

Your little superhero will love learning to walk in the KidsEmbrace Baby Batman Batmobile Black and Yellow Walker. Recommended for children up to ...

View full details

Original price

$99.99

-

Original price

$99.99

Save

$0.00

Save

$0.00

Original price

$99.99

-

Original price

$99.99

Your little superhero will love learning to walk in the KidsEmbrace Baby Batgirl Walker. Recommended for children up to 26 pounds who can support t...

View full details

Original price

$99.99

-

Original price

$99.99

Sold out

Original price

$99.99

-

Original price

$99.99

Your little superhero will love learning to walk in the KidsEmbrace Baby Batman Walker. Recommended for children up to 26 pounds who can support t...

View full details

Original price

$99.99

-

Original price

$99.99
Sold out

Original price

$32.99

-

Original price

$32.99

The KidsEmbrace Batman Baby Carrier is here to save the day! This product is for children weighing 7.7 to 26.4 pounds, and it's essential for super...

View full details

Original price

$32.99

-

Original price

$32.99

Save

$0.00

Save

$0.00

Original price

$32.99

-

Original price

$32.99

The KidsEmbrace Justice League Baby Carrier is here to save the day! This product is for children weighing 7.7 to 26.4 pounds, and it's essential ...

View full details

Original price

$32.99

-

Original price

$32.99

Save

$0.00

Save

$0.00

Original price

$38.99

-

Original price

$38.99

The KidsEmbrace Justice League Baby Carrier is here to save the day! This product is for children weighing 7.7 to 26.4 pounds, and it's essential f...

View full details

Original price

$38.99

-

Original price

$38.99
Save

$0.00

Save

$0.00

Original price

$22.99

-

Original price

$22.99

The KidsEmbrace Wonder Woman 2 in 1 Harness Buddy is perfect for keeping your kids close and safe in busy and public places. The long 3 foot tethe...

View full details

Original price

$22.99

-

Original price

$22.99

Save

$0.00

Save

$0.00

Original price

$22.99

-

Original price

$22.99

You may not be able to have Batgirl's Utility Belt, but now you can have the second closest thing! The KidsEmbrace Batgirl vehicle organizer is pe...

View full details

Original price

$22.99

-

Original price

$22.99

Save

$0.00

Save

$0.00

Original price

$22.99

-

Original price

$22.99

You may not have a Batcave to protect your Batmobile, but Batman is here to protect your vehicle seat! The KidsEmbrace vehicle seat mat protector ...

View full details

Original price

$22.99

-

Original price

$22.99

Save

$0.00

Save

$0.00

Original price

$22.99

-

Original price

$22.99

A window shade by definition is intended to make things cool, but the Batman Baby Window shade takes cool to a whole new level! The Batman Vehicle...

View full details

Original price

$22.99

-

Original price

$22.99

Save

$0.00

Save

$0.00

Original price

$22.99

-

Original price

$22.99

You may not have a Batcave to protect your Batmobile, but Batgirl is here to protect your vehicle seat! The KidsEmbrace vehicle seat mat protector...

View full details

Original price

$22.99

-

Original price

$22.99

Save

$0.00

Save

$0.00

Original price

$22.99

-

Original price

$22.99

The KidsEmbrace Superman 2 in 1 Harness Buddy is perfect for keeping your kids close and safe in busy and public places. The long 3 foot tether al...

View full details

Original price

$22.99

-

Original price

$22.99

Save

$0.00

Save

$0.00

Original price

$32.99

-

Original price

$32.99

The KidsEmbrace Justice League Baby Carrier is here to save the day! This product is for children weighing 7.7 to 26.4 pounds, and it's essential ...

View full details

Original price

$32.99

-

Original price

$32.99

Save

$0.00

Save

$0.00

Original price

$38.99

-

Original price

$38.99

The KidsEmbrace Justice League Baby Carrier is here to save the day! This product is for children weighing 7.7 to 26.4 pounds, and it's essential f...

View full details

Original price

$38.99

-

Original price

$38.99

Sold out

Original price

$32.99

-

Original price

$32.99

The KidsEmbrace Batman Baby Carrier is here to save the day! This product is for children weighing 7.7 to 26.4 pounds, and it's essential for super...

View full details

Original price

$32.99

-

Original price

$32.99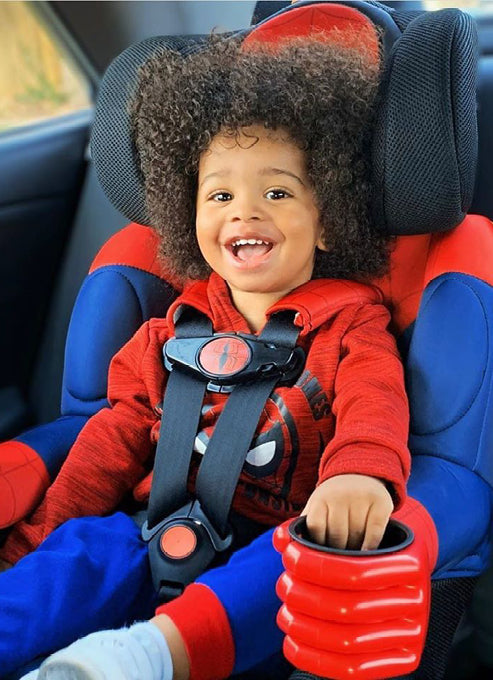 Do your kids give you a tough time buckling into their car seats?
Kids love our seats for the fun and parents love them for the safety. Super easy to use 5 point harness with award winning safety features from your favorite brands. Disney, Marvel, DC Comics and Nickelodeon. Among our extensive cast of super friends we are certain there is a character for everyone.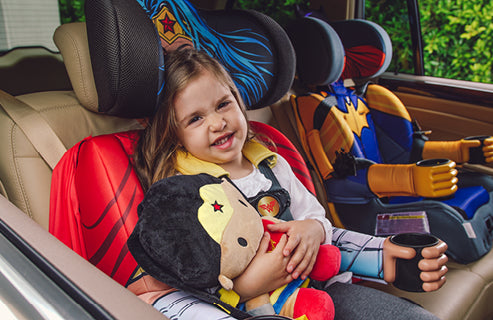 Safety is our top priority
KidsEmbrace is proud to make safety a priority. We regularly work with SafeKids Worldwide and groups like Car Seats for the littles to ensure our products are being inspected and reviewed regularly by unbiased 3rd party agencies focused on safety. In addition, our products are held to a higher standard by the likes of our world-class license partners such as Disney, Warner Brothers, Marvel, and Nickelodeon.
Learn more
Follow KidsEmbrace on Instagrtam @kidsembrace
Our Certifications & Awards
Help us find what you're looking for!