There's a reason why World-renowned companies such as Warner Brothers, Disney, Marvel and Nickelodeon partner with us on creating the seats kids want to stay in. At KidsEmbrace, safety is our absolute number one priority, and we take it very seriously! Below are the safety certifications and awards won by our brand.
KidsEmbrace Launching First Ever Black Panther Car Seat
World's first Black Panther themed officially licensed combination booster car seat launches exclusively to Amazon.
PRESS RELEASE
UPDATED: JUL 26, 2018 07:11 PDT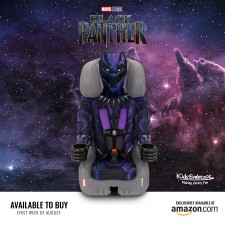 LOS ANGELES, July 26, 2018 (Newswire.com) - KidsEmbrace makes sure safety is always the number one priority! They pride themselves on making safe products and following through on their promise of Making Safety Fun! KidsEmbrace has worked closely with some of the World's largest Global Licensed Brands, including Warner Bros, Marvel, Disney and Nickelodeon to create super fun character themed car seats, strollers, booster seats, baby carriers, high chairs, and more! 
To celebrate the official launch of the world's first Black Panther themed officially licensed combination booster car seat, KidsEmbrace has invited a bevy of social media influencers, celebrity actors and local families for a fun, family play day on Saturday, July 28, 2018, at the KidsEmbrace Headquarters based in Los Angeles California. The day will be filled with fun activities for kids and adults alike including face painting, balloon artists, meet and greet with characters from the movie including actual cast members from the blockbuster Marvel Black Panther. During the day guests will enjoy frosty and savory treats from local food vendors, charity auctions, goodie bags and raffles. 
KidsEmbrace is working directly with The Special Needs Network (SNN) based in Los Angeles and is California's leading grassroots autism advocacy organization. As a nonprofit organization, SNN was established to help low-income and underserved families faced with autism and other developmental disabilities. The organization focuses on raising public awareness, impacting public policy, increasing education and providing access to resources for families, children, and adults. KidsEmbrace has elected (SNN) as the official charity sponsor for the event. 
To celebrate the official launch of the world's first Black Panther themed officially licensed combination booster car seat, KidsEmbrace has invited a bevy of social media influencers, celebrity actors and local families for a fun, family play day on Saturday, July 28, 2018.

VINCENT MASTRANGELO

COO, KIDSEMBRACE
The Black Panther combination booster car seat will be available exclusively through Amazon starting August 1. 
Shop for the Black Panther combination car seat on Amazon here: https://amzn.to/2NGmUcT
If you can't attend in person share the content on your favorite social media site and use the hashtags: #kidsembrace #blackpanthercarseat
For more details on the event and how to attend click here: http://bit.ly/2Lgkzsq
Press and Media Inquiries: marketing@kidsembrace.com
KidsEmbrace Hotline: 818-456-2901